ANY QUESTIONS?
Frequently Asked Questions
How long will my order take to arrive?
That depends on the products in your cart. You can identify this by the products marked as available but with a non-immediate delivery time.
Types of products:
Immediate Delivery: Available in the warehouse, meaning the product is physically in Casa Porfiria's showroom.
One-Week Delivery: Products marked this way are likely custom-made by our artists and will require time to prepare your order. Your order will take between 45 and 60 days to arrive.
What payment methods can I use?
Visa, MasterCard, or American Express debit or credit cards
Apple Pay
Transfers to the CLABE account number: 012680004652886811 Account: 0465288681
PayPal
I want to know more about a product. What can I do?
If I want to pay by transfer, how can I do it?
Send your transfer receipt to tienda@casaporfiria.com, and we will shortly send you an email confirming the transaction.
How can I check the status of my order?
How can I know if my payment was approved?
Once the transaction is confirmed, you will shortly receive an email confirming your order.
Where can I see the product in person?
You can visit us at our showroom. Located at Capuchinas #410, Col. Carretas, Queretaro, Qro and at Plaza ATRIUM, stores 3 & 4, Blvrd Mijares corner of Calle Coronado, San Jose del Cabo, B.C.S.
What is the delivery time?
The approximate delivery time is 45 to 60 days.
How can I request an invoice?
Send your tax ID (RFC), complete address, legal business name, and order number to the email: facturacion@casaporfiria.com. You will receive your order invoice shortly.
What is the shipping process?
Once the transaction is complete, you will receive a purchase confirmation email with payment verification. As soon as the product has been confirmed to be shipped to its destination, you will receive a tracking email to track the order, and finally, you will receive a shipping confirmation email once the package arrives at the address specified by the customer.
What if I want to cancel my order?
Casa Porfiria manufactures the products once the customer requests them. The customer can cancel the purchase of one or more products only if the purchased products have not been confirmed through the first purchase confirmation email and payment verification. In such cases, please contact Casa Porfiria as soon as possible through the email tienda@casaporfiria.com or phone: 442 223 5625 to proceed with the refund process. If the product(s) have already started their manufacturing process or have been delivered to the customer, the purchase cannot be canceled, and you will need to follow the "returns" procedure.
What if I want to exchange or return a product?
We invite you to read our terms and conditions section.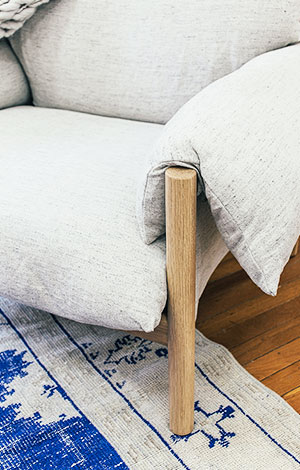 CASA PORFIRIA
The best furniture and decorations in Mexico.
We select the best products to make your home a unique space.